.

..

.
The three basic menus above are used on every single post page to make navigation as easy as possible, as exactly on every regular page. In addition, we use two more menus located on the right sidebar (see below).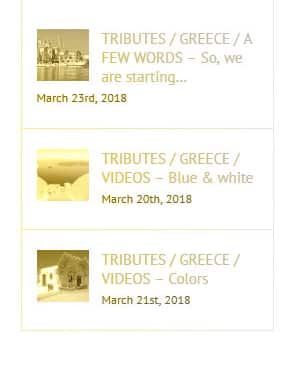 Here you can see our latest posts, recommended posts, and ways to participate (either in English or Greek).

.
This is a very useful menu that is found at the end of each post and helps you go back to the archive of the Project you are exploring, to the post category archive or page, to the website's central archive, and also to the same post in Greek. The colored menu items are always clickable.

On every Gallery page, you can see three menus, the sliding bar menu, the footer menu, and the toggle menu (placed here in the middle of the page, below the slideshow). All of them contain helpful links for easier navigation.

.